Development Programme
The Association continues to work in partnership with Kingdom HA to deliver new homes throughout Clackmannanshire.
Elm Grove, Alloa
The site at Elm Grove, Alloa was acquired in 2005 as part of an area regeneration plan.
Having lain vacant since 2005 proposals are being developed for a mixed tenure development in partnership with Kingdom HA which will, on completion, provide 33 social rented units for Ochil View and 21 mid-market rent for Kingdom.
The proposed social rented housing mix is as follows: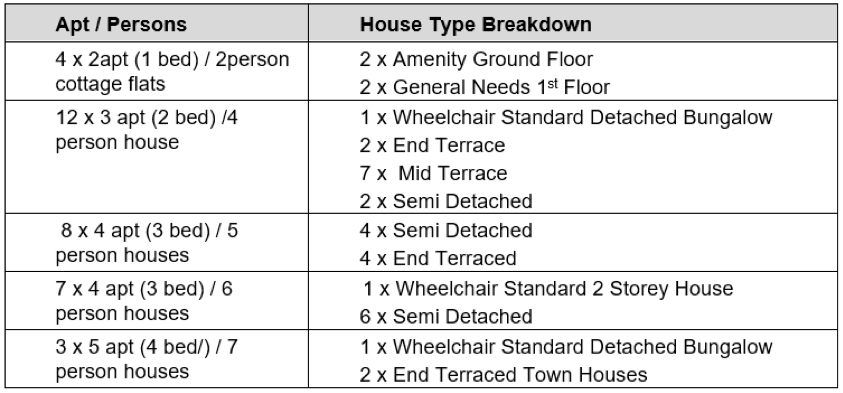 Millers Lade Avenue, Sauchie
Phase 2 of the above development was completed in May 2019 and provides the following 11 new homes:
2x 2apt / 2 per cottage flats (Amenity)
2 x 2apt / 2per cottage flats (General Needs)
3 x 3apt / 4per terraced houses (General Needs)
2 x 3apt / 4per semi - detached houses (General Needs)
2 x 4apt / 5per semi- detached houses (General needs)
Future Development Opportunities
As agreed in the collaborative partnership with Kingdom HA the Association will continue to have a role in new housing provision beyond the development of the 2 sites in our ownership as seen by our inclusion in the future capital investment plans for the period 2021 - 2023.
20 Mar Street, Alloa
Following an "options appraisal" in October 2018 it was decided to "remodel" the block of 6 bedsits at 20 Mar Street, Alloa and provide 3 one bedroom flats.
In terms of progress Planning approval has recently been granted and discussions are ongoing with representatives of the Clackmannanshire and Stirling Health and Social Care partnership and Key Housing Association about the potential lease as particular needs accommodation.